Consultation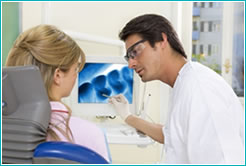 At the first meeting the patient fills in a form and a questionnaire, which we use to register his/her personal details. We inquire about the patient's general health condition, about his/her drug taking habits, any known illnesses and any known allergies, etc.
This information is vital and very important for the planning of any future treatments.

Then we make a panorama x-ray image that gives us a clear picture of the condition of the patient's teeth. It also is possible to screen for any inflammation around the roots of the teeth and allows for an examination of the bone structure. The dentist uses this as a basis to plan the necessary treatment.

Following this, we ask the patient about any existing complaints, concerns and requests regarding their treatment.
By having this information we make several treatment plans from which the patient has the possibility to choose from according to his/her needs. When we give information about the treatment plan, we also give information about the expected duration and cost of the treatment.

The basis for correct planning is the presence of the patient and a thorough examination.

It is also possible to make a price quotation on the basis of an x-ray image sent via e-mail or by post, but this can significantly change in the course of the examination in the consulting room and a personal consultation between the dentist and the patient.